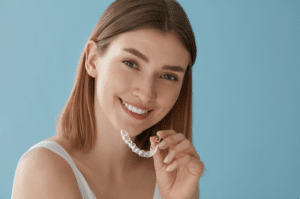 Four million people in the US wear clear or traditional braces at any given time. While the vast majority of those are under the age of twenty, the American Association of Orthodontists (AAO) reports that around 27% of those patients are adults.
Whatever your age, this type of orthodontics are a fantastic way to address a range of dental problems, including –
Uneven teeth

Large gaps between teeth

Dental overcrowding

And more
Given that many of these issues can lead to further problems such as gum disease and tooth decay, you could even say that they are key to avoiding tooth loss down the line. 
Here at Aspen Dental, we provide braces to customers across Denver, Colorado, and beyond, and our team is on hand to help you understand your options and which would be best for your needs. Most commonly, our patients choose between clear and traditional braces. Here, we're going to consider clear braces vs traditional braces so that you can get an idea of which side of the fence you fall on.
What are traditional braces?
Traditional braces are what we most often think of when we consider braces. Commonly known as 'train tracks' because of their appearance, these typically consist of stainless steel brackets connected by archwires. These brackets are attached to the front of the teeth using adhesive and can be enhanced with colored or clear gels depending on a patient's preference. These braces are typically required for around 18 to 24 months, during which they're tightened every six to eight weeks to enable a gradual shift in a patient's teeth. In some instances, rubber bands may also be necessary between metal brace brackets to further allow for straightening of teeth throughout treatment.
Pros: 
Suitable for correcting a range of problems

Archwires move teeth fast by reacting to body heat

An affordable option

Attached for guaranteed results
Cons:
Incredibly noticeable

Can make cleaning incredibly difficult

Can create mouth sores, especially after adjustment
Clear braces
Clear aligners are new contenders on the dental market and refer to either ceramic braces or clear plastic retainers. Ceramic braces work much like the traditional but are made of ceramic that's nowhere near as noticeable. By comparison, plastic retainers are a removable solution that effectively remolds teeth over time. These aligners are typically worn for just two weeks, with patients required to keep them in for between 20-22 hours a day.
Pros:
More aesthetically pleasing

Don't irritate the gums like metal

Easier to clean
Cons:
Not as durable as stainless steel options

Typically more expensive

Slightly larger brackets

Archwires prone to staining
Brace yourself for the best treatment with Aspen Dental
Now that you know your options, it's essential to discuss them with an expert who can suggest the right solution for your needs. Clear braces are increasingly becoming a favorable choice, but it's also vital to note that they aren't suitable for everyone. Anyone considering braces in Denver, Colorado, shouldn't hesitate to contact our friendly team to discuss these options and more at (720) 438-4208 today.