Dental Bonding in Denver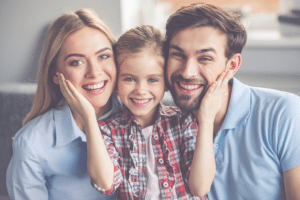 Our team at Aspen Dental wants all patients to love their smile and the appearance of their smile. We want our patients to know that teeth are powerful and can withstand a lot of pressure, and avoid some injury if taken care of. Although they are strong, teeth can chip or break if there is enough trauma. We offer dental bonding to restore teeth that are chipped, cracked, discolored, or mismanaged. 
Many patients love the idea of dental bonding because it is quick, easy, and an excellent alternative to veneers. Enhancing your smile is easy at our office in Denver. 
How Does it Work?
When you experience dental trauma, it is essential to speak to and have one of our dental professionals examine your tooth. Depending on the circumstances, different procedures may be better, but we will suggest dental bonding if there is a minor issue that you want to be corrected. 
First, we prepare the tooth for the procedure by lightly etching the surface and applying a bonding liquid. Dental etch is used in various dental procedures to slightly roughen up the teeth for the dental liquid to stick correctly to the tooth. Once the liquid sets, a plastic resin is applied and sculpted into the desired shape by the dentist. Once set, the resin is trimmed, smoothed, and polished to a natural appearance.
The dental bonding material is a tooth-colored resin in many shades to match each patient's smile. 
Considerations
The bonding procedure can often be completed in a single office visit and significantly improve a tooth's appearance. This quick treatment can dramatically enhance your smile and confidence. 

Since the plastic resin used is not as strong as your natural tooth enamel, it is more likely to stain, chip, or break than natural teeth. Bonding typically lasts three to five years before repair is needed. Patients who choose to have a minor dental abnormality restored are encouraged to be careful and take excellent care of their teeth. 

Dental veneers are a lengthy and significant cosmetic procedure that we offer to change your smile drastically. If there are a few teeth that you are looking to change, veneers might be too drastic for you. We can perform dental bonding on multiple different teeth. 

We can place dental bonds quickly. If you or someone in your family undergoes a dental emergency where your tooth becomes minorly damaged, please get in touch with our office immediately.
Who can get Dental Bonds?
At Aspen Dental, our services are available to all patients if they qualify for them. We encourage every patient acquiring severe dental services to consult with a dentist to determine the best for your smile. 
Patients of any age can take advantage of dental bonds. It is most common for patients with adult teeth to restore their minorly damaged teeth because adult teeth will last forever. Although it is not common for children with baby teeth to obtain dental bonds, repairing a damaged baby tooth is still possible. 
Receive a Dental Bond Today
There is no reason to wait to restore a minor chip, crack, or discoloration on one or multiple of your teeth. With our high-quality and affordable dental bonds, your teeth can look brand new and your smile enhanced. 
If you are looking for a way to enhance your smile or fix a small amount of damage on your teeth, please give us a call to schedule a dental bond consultation appointment. We are located in Denver, Colorado, and are currently taking new patients.  
Please reach out to us if you want to learn more about how bonds can help you. 
Excellent care means a total commitment of 100% patient satisfaction