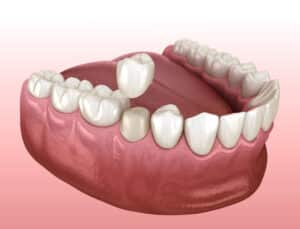 Restorative Dentistry in Denver, Colorado
Most people don't realize that a dentist does more than clean teeth and look for cavities to fill. While it's nice to have an appointment and be in and out quickly, restorative dentistry is sometimes necessary to help teeth function normally and without any pain. Finding the best restorative dentistry that Denver has to offer is easy when you speak to the experts at Aspen Dental. If you are missing teeth or dealing with pain in your teeth and gums, you may need restorative dental care to help you get back to your best. Losing a tooth as an adult isn't always easy to cope with, so let's look at what restorative dentistry is and why you may need it.
Restorative Dentistry: What is It?
When you are missing teeth, the dentistry branch that will apply to you is restorative. It helps to improve the way that your teeth and gums function. We can also correct any oral issues, decay, infection, and many other problems that may arise when you don't practice good oral dental hygiene. Some of the services that the best dentists have to offer can include the following:
Treatment for bleeding gums

Bridges

Fillings

Root canals

Implants

Crowns
And more!
Whether your issue is above or below the gum line, Denver's best restorative dentist can help you with those issues. You must quickly go through the treatment you need if you are recommended by a specialist for restorative dental care in Denver so that your teeth do not deteriorate too soon. We have outlined all of our treatments on this website. We invite you to explore them more in-depth and reach out with any questions that you may have! 
Who Needs Restorative Dentistry Denver?
Restorative dentistry in Denver isn't just limited to adults with a missing tooth. People of all ages may need some additional help with restorative procedures. Even those who are excellent at caring for their teeth can encounter grinding issues in the night or underbite. We do not advise skipping any dentistry appointments. At each dental appointment, we can determine if there is an issue with your gums and teeth. We can catch it early if there is, and the restoration won't be as extensive. Your dentist will not suggest any measures that you don't need, and you will be in more pain if you don't get through the appointments in a timely manner.
If you have missing teeth, cavities, or broken teeth, you need to speak to your dentist about restorative dentistry appointments. It's not the same as cosmetic dentistry, which looks to give you a perfect smile and improve your appearance. Instead, restorative dentistry looks to get you the help you need with your teeth and gums to prevent further pain. It's not healthy to have painful teeth, but the best restorative dentistry Denver has to offer will help you there. As soon as you start to notice pain in your mouth or abnormal symptoms, give us a call! 
Contact Us Today
At Aspen Dental, we aim to offer the best restorative dentistry Denver can provide. Our skilled team can assist you with appointments that enable you to relieve the pain in your teeth and gums, get back to your best health and feel comfortable and confident once more. At Aspen Dental, you can guarantee that you will be back to your smiling best in no time at all. Take the time to contact us today, and we can walk you through the procedures that we offer. Give us a call today, and let's get you started.